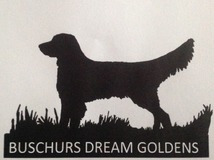 Buschur's Dream Goldens
Puppy Guarantee
A puppy should be examined by the new owner's veterinarian within seven days of purchase. If puppy is found to have any serious illness or defect that would prevent said puppy from being a sound pet, puppy may be returned to breeder for a full refund.
Puppies are sold on a limited registration. Limited Registration means AKC will not register litters from said puppy and is therefore a non-breeding registration. Buschur's will amend the registration to a Full AKC Registration subject to the following conditions being met:
The puppy must be a minimum of two years of age
The puppy must have a final OFA hip evaluation of Fair, Good or Excellent.
The puppy's eyes must have been examined by a Board Certified Veterinary Ophthalmologist and a certificate issued by CERF for the puppy.
Buyer has provided legible copies of the above veterinarian examination reports or clearance certificates to Buschur's.
The puppy will be replaced by another of the same sex from a future Buschur's Dream Goldens litter if:
The puppy is diagnosed with Hip Dysplasia, the X-Rays must be taken before 26 months of age.

Buschur's reserves the right to request additional x-rays and to have them evaluated by the professional of his choosing.

The puppy is diagnosed to have Juvenile Cataracts, Entropion, or Ectropion. Puppy must be diagnosed by a Board Certified Veterinary Opthamologist, and this must be done before 26 months of age.
Buschur's Dream Goldens does not pay any diagnostic or corrective medical expenses, or transportation fees.
After vet confirmation letter, of spade/ nueter completion, your puppy will be replaced from a future litter.
If you are ready to reserve your puppy, you can send a $200 deposit check or Click here to make a deposit using PayPal http://paypal.me/CBuschur/200