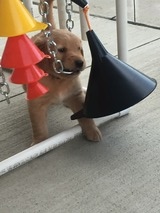 We really care about our puppies and want them to reach their full potential, we encourage this in multiple ways such as Lots of Human Socialization, Early Nuerological Stimulation and Sound Socializing. These help to create a confident dog who adapts easily to stress and new situations, they will adapt better in the home or in the field, this will make your new best friend healthier too!
Human Socialization
We have a large family of 6 children and about 50+ (still growing) nieces and nephews, who along with the kid's friends, are over all the time playing with the puppies!!
Early Nuerological Stimulation
The U.S. Military in their canine program developed a program known to the public as the "Super Dog" Program. Based on years of research, the military learned that early neurological stimulation exercises could have important and lasting effects. Their studies confirmed that there are specific time periods early in life when neurological stimulation has optimum results. The first period involves a window of time that begins at the third day of life and lasts until the sixteenth day. It is believed that because this interval of time is a period of rapid neurological growth and development.
Five benefits of Early Nuerlogical Stimulation are:
Improved cardio vascular performance (heart rate)
Stronger heart beats
Stronger adrenal glands
More tolerance to stress
Greater resistance to disease
For more click here: http://breedingbetterdogs.com/article/early-neurological-stimulation
Sound Socializing
Is done with a CD that has sounds of gunshots and fireworks; sirens; children playing and screaming; vet's office; traffic; groomer; home; large airport; thunderstorms; kennel; machines & tools; trains; infants crying; small airport, and day camp. Sound socialization training does make a positive impact on the quality of life for your puppy. It helps create a calm and confident puppy. A well-behaved, socialized dog is welcomed by more people and in more environments than a non-socialized dog. We also Introduce your puppy to car, truck and airport sounds before their travel so they can enjoy a more relaxed easy journey.
***Hunters this sound socializing minimizes the chance of having gun shy dogs :)
Links
Clubs and other Organizations
We personally endorse and encourage the use of the following clubs and organizations