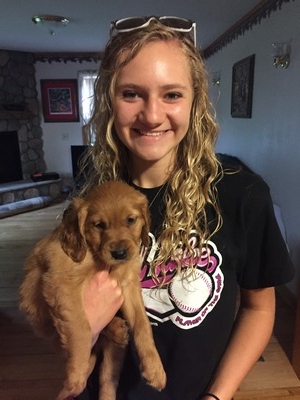 Thank you for your interest in owning a BUSCHURS DREAM GOLDEN RETRIEVER!
If you would like one of our golden retrievers, please begin the process by filing out the questionnaire below.
We always try to find the best possible home for our dogs. Golden retrievers were originally bred to be hunting companions. We carefully select our breeding pairs to compliment each other and we try to place our puppies in homes where they will unlock those skills that are hard wired inside each puppy. All the dogs at Buschur's Dream Goldens have fantastic temperament, meaning that they are gentle and loving at home, but when in the field, it's like a switch flips and their natural field abilities take over.
We have had great success with our breeding program, our puppies have gone on to Search and Rescue (SAR), Upland or Waterfowl field dogs, Agility and Hunt Test dogs, Deer recovery and shed hunters, Hospital, Nursing Home and PTSD therapy dogs, but most importantly they have become terrific loving family members.
We really look forward to meeting you and welcoming you to our Buschur's Dream Golden Family.
Due to various reasons, not all applicants are a good fit and some are not selected.
Click here to make a safe deposit using PayPal http://paypal.me/CBuschur/200