Buschurs Dream Goldens
Puppies
Our dogs are not bred unless they have all their clearances: good or excellent hips, elbow, and eyes. We carefully study the DNA health and match mates for the healthiest puppies possible.
The pups are played with shortly after birth, and handled daily. The pups are vet checked and have their first set of shots before going to their new home. They are very well socialized and are introduced to water (weather depending) and birds. We do not remove dew claws because the claw can be useful to dog (see video for more information).
We want you to be the most important part of the process in picking just the right puppy for you. It is not a problem if you cannot be here to pick your pup out because we analyze for family, agility, and hunting traits. We test all our pups on temperament, agility, and hunting capability. We will keep you updated with pictures of the pups that we feel fit your needs.
Please check out our current litters and if you have any questions please contact us.
Our pups come with a two year health guarantee.
Click here to make a safe deposit using PayPal http://paypal.me/CBuschur/200
Planned
❤️ MILA & JACK FOR THE SPRING OF 2019 ***** CRUZ & MOLLY SUMMER OF 2019 ****** CRUZ & SADIE SUMMER OF2019 ❤️
Current
Jack x Mila
Date of Birth: May 15th, 2019
Dad (sire)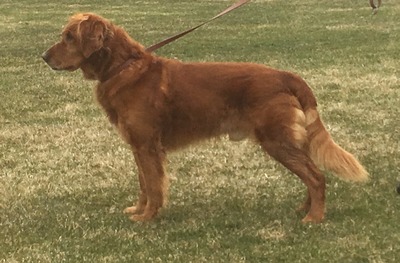 View Profile
Mom (dam)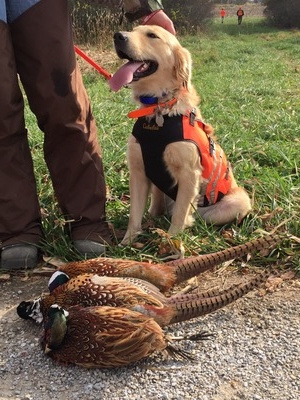 View Profile
Pedigree & Hips, Elbows, Eyes OFA Certified
We are excited, awaiting these amazing pups!
Jack has earned his Junior Hunt Title sofar, and is a terrific family pet. He came from Muddy Waters Kennels and his championship pedigree is tremendous! It speaks for itself, full of master hunters and a Field, Hall of Fame, grandparent, he embodies all the skills of his great heritage! He is a beautiful dark red golden retriever and weighs about 55#, loves water and is a great marker. He is very agile.
Mila is an accomplished upland hunter, she will flush and retrieve birds all day long! She loves swimming and retrieving from our pond. She seems to have a hidden switch that flips when she is in the field and its time to work, she has great drive and a fantastic nose. She is very gentle, when we get home, and loves playing fetch and walking with the family. She is a light golden, golden retriever weighing about 56#
Combine Mila's sweet personality and outstanding performance in the field with Jack's talents and great nature and we think you're going to have outstanding pups. Both come from homes with children and will be have pups with great temperment.
Both Mila and Jack have hip, elbows and eye clearances. We are expecting the pups to arrive around May 15, 2018. They will be ready to go home in mid July, perfect for the kiddos to have a super fun summer with their new puppy.
The pups will cost $1000 (male or female) including a 2 year health guaruntee. Only a $200 deposit is required to hold your pup, so reserve yours today!
Pictures will be coming soon...
For pedigrees view the clearances/pedigree link in their individual profiles.
Here is the pedigree for the new puppies, copy it to your browser:
http://www.k9data.com/pedigree.asp?ID=812516